Product image 1
Product image 2
Product image 3
Product image 4
Product image 5
Product image 6
Product image 7
Roaming through the spice markets of Morocco, the unmistakable smell of freshly ground coffee, brewed immediately for the perfect espresso permeates your experience. It's a smell and savoir-faire that is difficult to duplicate but try our Mistral blend and judge for yourself.
A medium roast blended especially for espresso brewing. This blend has strong body with a sweet, creamy finish and a pleasant aftertaste that will linger on your palate. Inspired by classic Italian espresso blends. Great with milk but also stands alone as a truly great espresso.
It also is very smooth and flavorful when brewed with a French Press. Different chocolaty notes emerge when brewed this way.
Customer Reviews
Amazing!!!
We absolutely LOVE this coffee! It's so smooth and not bitter at all. We look forward too it every morning!
10/02/2021
Julia P.

United States
Best coffee
This coffee never disappoints. Looking forward to having my first cup of the day is literally what gets me out of bed in the morning. The delivery service has been flawless. I highly recommend.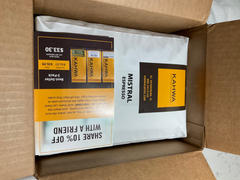 09/27/2021
Mark E.

United States
Great coffee
This coffee was recommended to me by a friend. It is fantastic. The ordering was super easy and the shipping was fast. Great first experience.