2lb bags are here!
Save big and satisfy your cravings with our brand new 2lb bags. Order now or subscribe for an even better deal!
Shop Now
Franchise Opportunities Now Available!
Start your journey to becoming a Kahwa Cafe owner today
Learn More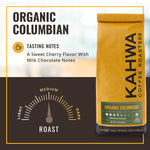 Enjoy 3 Bags of our customer favorites or send as a gift to any coffee lover on your list! Available...
Learn more
Subscribe & Save
Get 10% off your first subscription order and never run out of coffee again.
Subscribe Now
Shop All Coffee
Bring home the best of Kahwa in the comfort of your own home. Whether you drink espresso, drip coffee, cold brew, french press or k-cups create your perfect cup, whenever you want.
Shop Now
You can never have too much coffee. Buy Bulk.
Learn more about coffee and brewing