Limited Release 17th Anniversary Barrel Aged Blend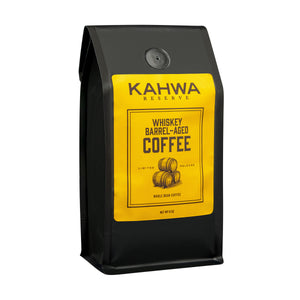 It's back! Reintroducing Kahwa Coffee Roasters' limited edition 17th Anniversary Whiskey Barrel-Aged Blend - a coffee that's truly one-of-a-kind. This blend is made from whiskey barrel-aged beans that have been carefully aged in a Buffalo Trace Bourbon barrel for three months, resulting in a uniquely smooth and complex flavor profile. 

This coffee is available in 8oz bags only.
Upon opening the bag, you'll be greeted with a tantalizing aroma of oak, vanilla, and cola, which will have your taste buds salivating in anticipation. The rich, full-bodied flavor of this coffee is a perfect balance of the natural coffee taste and the subtle notes of whiskey and oak.
Brew using your preferred method. For the very best flavor, we recommend brewing using a French press. The French press will bring out the rich and bold flavors. We also recommend you try it as a cold brew which will enhance the sweet and smooth notes of vanilla and cola.
This small batch coffee is perfect for coffee lovers who enjoy exploring unique and interesting flavors. Don't miss your chance to experience Kahwa Coffee Roasters' 17th Anniversary blend - get yours today!